SYNTHETIC TURF MAINTENANCE
The Tier 1 yearly maintenance charge will be 75 cents per square foot for golf greens and 35 cents a square foot for lawns, plus a trip charge of $130.
Southwest Greens recommends this yearly maintenance to keep your golf green in optimal shape. Below is a list of what will be completed in a tier 1 maintenance. Following this yearly maintenance program, we guarantee that you will have a green that looks and plays as good as the day it was installed.
Check, re-align and clean cups.
Power broom old and discolored green sand off of the green surface area.
Re-top dress putting green surface with new green sand.
The tier 1 maintenance includes (1) 50lb bag of green sand per 100 sq.ft. Each additional bag of green sand needed is priced at $25.00 per bag.
Re-roll putting green surface if necessary.
Pull weeds & apply weed killer as needed.
Power Broom fringe to lift trapped turf fibers
Make any further recommendations at time of service.
Mold or Moss Problems
*If your green has Mold or Moss growing on it, please click on the link below and you will be directed to amazon online where you can purchase the product wet-n-forget. We recommend this product for getting rid of mold and mildew. Once you receive your product you will need to apply it heavily. Be sure that you have contacted us so that we are aware of the problem. Once treated, we will put you on our tentative schedule. After completion of our recommended maintenance, we guarantee that your green will look and play like the day it was installed.
Southwest Greens recommends yearly maintenance
Protect your investment!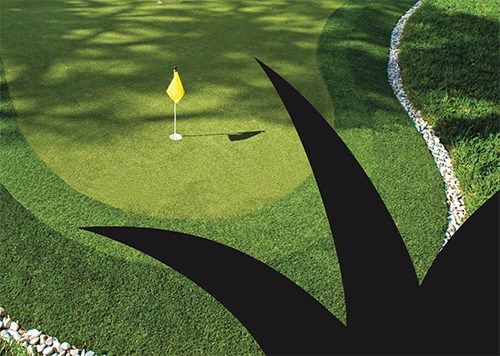 For the majority of homeowners, an artificial turf installation is a considerable investment, and therefore requires proper care and maintenance to ensure that they get the most out of their golf green or lawn.